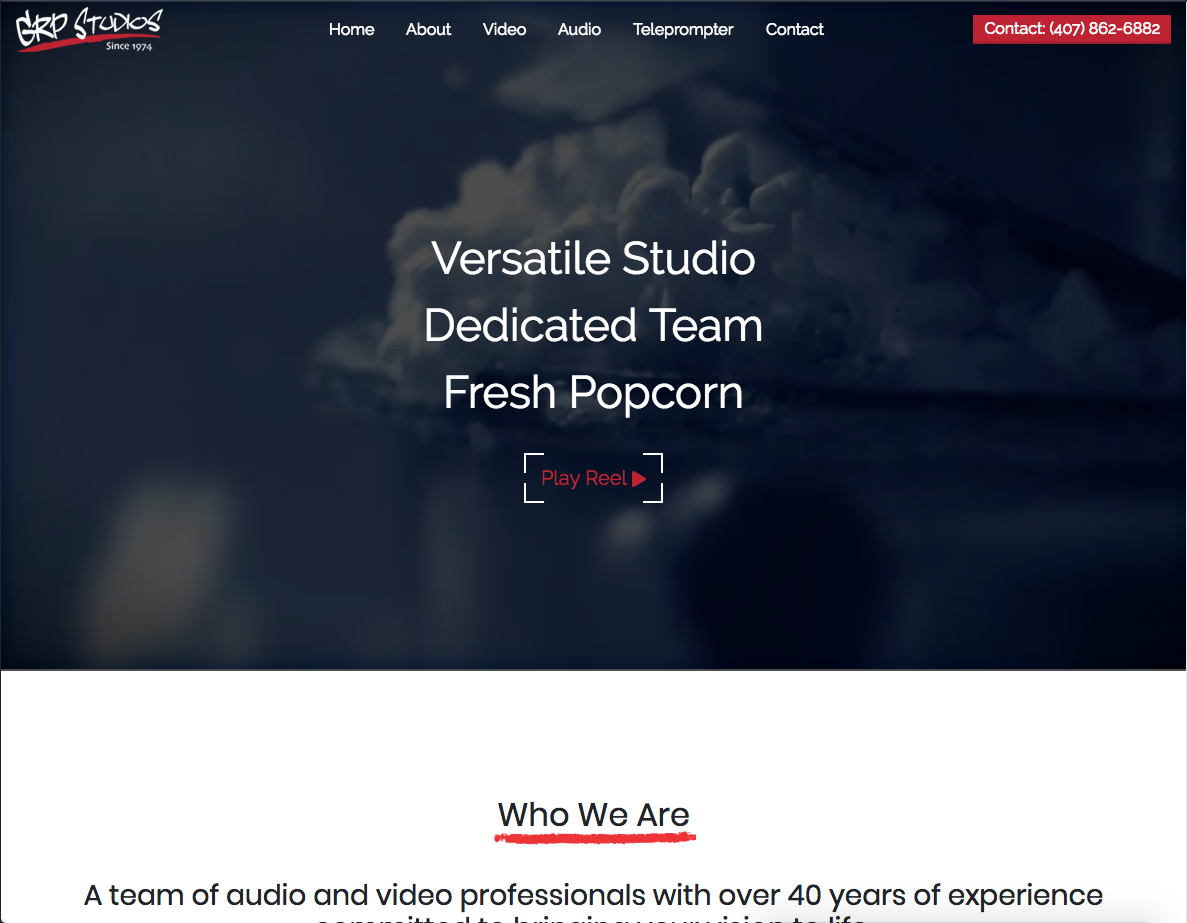 2018
Looking Ahead
2018 brought more changes for GRP Studios with Greg stepping into more of the consulting role on projects and focusing more on his love for music and audio production. Tim Proctor came on board as primary owner with Greg still on site as needed for special projects and to engineer audio clients. With the work that Tim has done over the past several years with clients such as Camp Boggy Creek, Habitat for Humanity and Kids In Support of Soldiers he brings in different angle on community service work for GRP. Working with longtime Production Manager Kristy Jones, GRP is looking to expand the teleprompter service, updating the website and continue to provide the excellence in service and production that Greg started nearly 43 years ago.

2016
New Facility
Once again with all the technology being available for lower costs, many clubs and bars were adding video to their facilities. To stay ahead of the trend, GRP once more changed directions.  The new direction moved GRP more toward the virtual world.  Still doing location productions, editing, audio mixing and teleprompter, GRP now offered a large green screen studio.  With GRP's new technology, with a few keystrokes GRP could virtually change the studio to be anywhere you wanted to be, switched live and capable of being streamed simultaneously all over the world.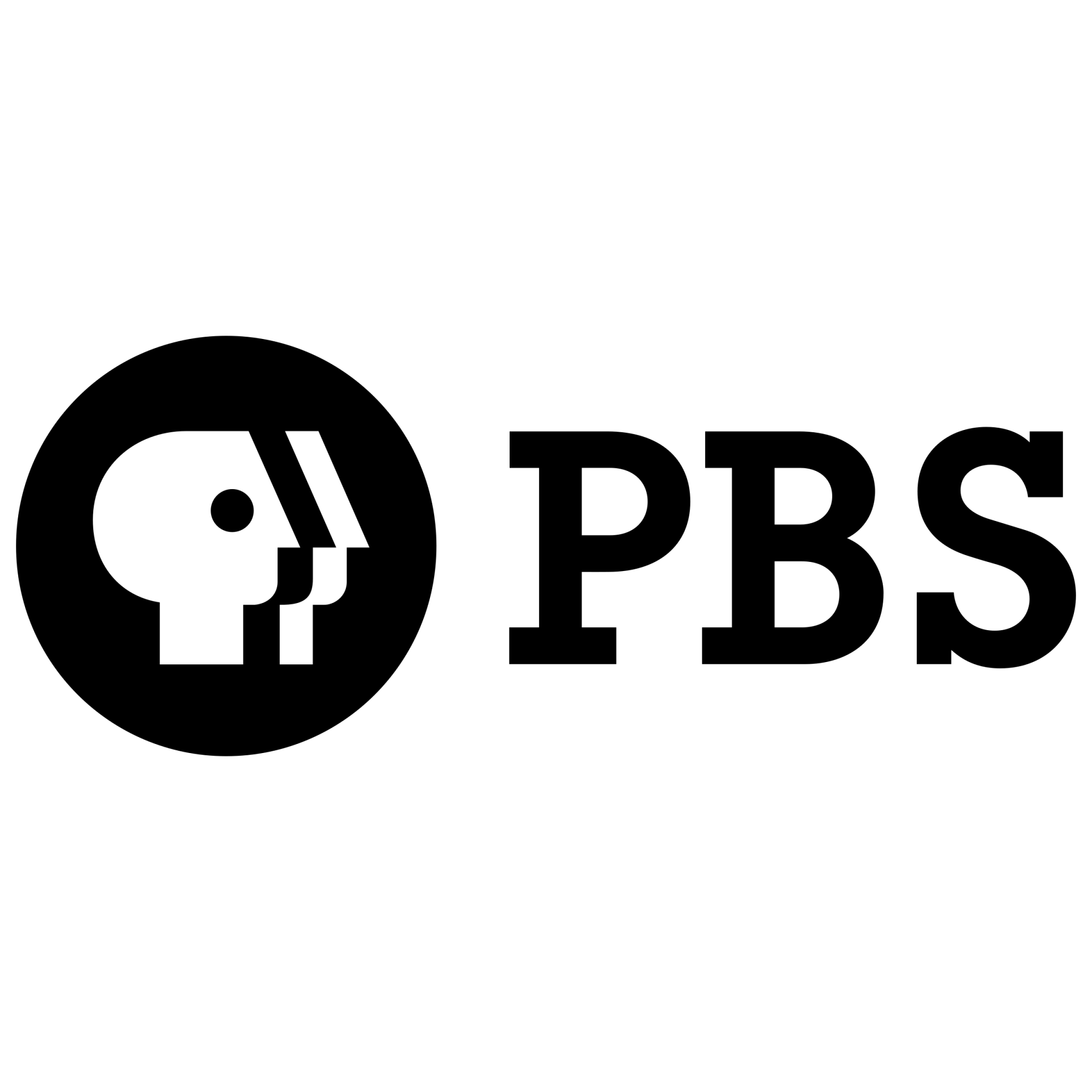 2015
PBS Distribution
By 2015 LLM had acquired a broadcast contract with NETA who is a distribution network servicing PBS affiliates all over the US. Greg did a lot of research and interviews with Living Legends artists. Kristy Jones, GRP Video Production Manager, edited for hours and hours on boiling hours of content down to a viewable length. Wally Walton took all the multi-track audio and mixed the shows for broadcast. The shows made it to air with rave reviews and will be in rotation through 2018.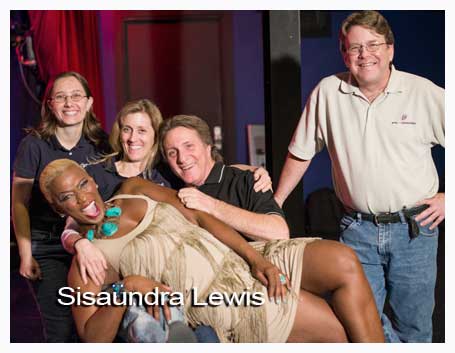 2010
CBS - The Voice
For the next several years GRP's expertise in concert production brought artists from places as far away as San Diego, Boston and Nashville. Amy Whitcomb came in from Utah and recorded with her band called "The Whits". She used clips from the show and ended up on CBS "The Voice". The next year Sisaundra Lewis recorded a concert at GRP and she ended up making it to the quarterfinals on "The Voice". Many of the concerts were artists that fit the criteria for Living Legends Music. Their concerts were earmarked for later use.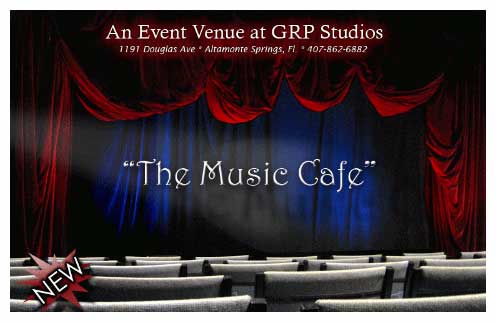 2008
The Music Cafe
The part of the new GRP that set much in motion was the stage in the studio. It was lit for television, had five HD cameras and multi-track audio recording capability. The venue was called "The Music Cafe" and GRP now had a beer and wine license to encourage live concerts to an intimate audience of 100. There were open mic nights as well as feature bands who were all recorded for television. At the end of the week all the clips were edited into a 30 minute program that was aired every Saturday night on the local CBS affiliate.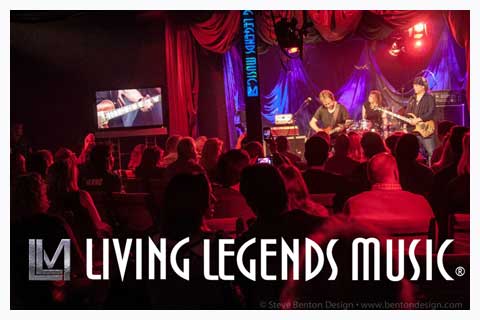 2006
Living Legends Music
With GRP soundly on a new course, Greg began the process of starting a new corporation that would champion major music artists and groups that have been in the industry for more than 18 years with a new studio release. Living legends Music Inc. began doing interviews with artists, populating the LLM website with new information and broadcasted Living Legends Radio from ITunes. LLM also was airing a broadcast Living Legends Radio series coast to coast in Canada. GRP was the production company that was responsible for shooting, editing, recording, mixing and distribution. It would set them on a course for developing original content.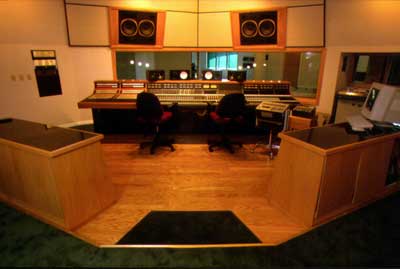 1998
New Directions
The time was right for GRP to purchase property and build a bigger studio. The new facility would be such that it would house the entire present facility with all the rooms in just the new studio room. An old steakhouse was gutted and completely rebuilt ground up as a production facility. The new layout would lend itself to a wider variety of productions than they were presently doing. With the video editing market going digital, a lot more companies could acquire their own editing systems. GRP would be serving all it's video clients and would also be shifting much of their focus to live music production in their studio. They would be able to direct it and switch it live and have studio quality audio. In the next few years GRP would morph the facility into full-blown TV studio.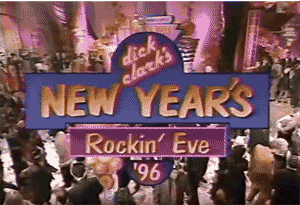 1996
Dick Clark NYE Broadcast
Dick Clark's New Years Rockin' Eve in 1996 was featuring a huge breakout band from Florida called "7 Mary 3" singing their hit "Cumbersome". GRP was hired as the production team to shoot, direct and switch the performance live to ABC network in New York. The GRP team with Greg directing made it happen without a hitch.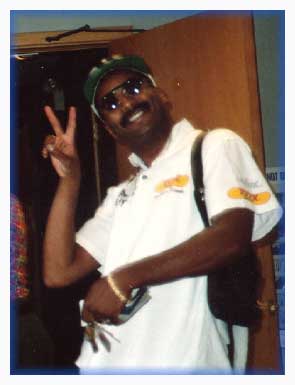 1995
BackStreet Boys
One of the producers who frequented GRP was Johnny Wright (Wright Entertainment Group) who was working with record producer Lou Pearlman. Johnny used GRP for early rehearsals with a group soon to be known as The Backstreet Boys. GRP was subsequently commissioned to record BSB very first live concert at SeaWorld Orlando. It didn't take long until they were superstars. GRP worked on their first record and GRP's engineer Darren Schneider mixed their first hit "Break Your Heart" that went platinum.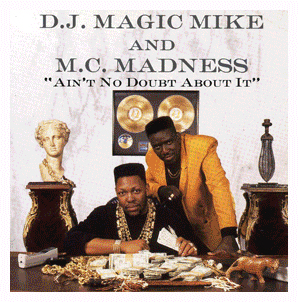 1993
Cheetah Records
A sub genre of rap called "Miami Bass" was growing out of a small record label in Orlando called Cheetah Records. This is the stuff that you hear booming from a car a block away. DJ Magic Mike was the primary artist and GRP was the studio it was all originating from. We played a lot of tricks like adding subsonic oscillators triggered with the bass or kick. This was also at the dawn of digital recording. The first digital master we did was on Bass: The Final Frontier. We used a PCM-F1 Digital Audio System which converted the analog audio to digital and recorded it on video tape. We could then take the video tapes into our video edit suite and do the editing to make the master.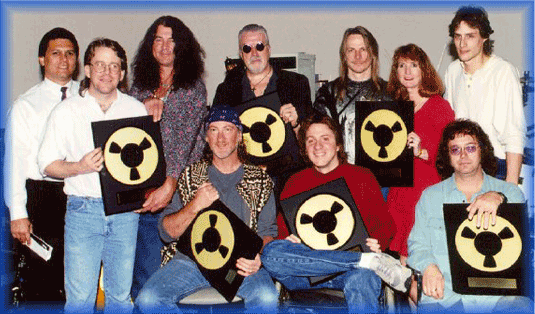 1990
Deep Purple
By 1990 GRP was in full swing with six full time employees and a team of part time freelancers. In video they were doing a lot of studio production, location shoots, live event AV services, teleprompter services and editing for local and national clients. Their audio department was back to back with stacks of local bands, choirs, solo artists and some national acts. One of the bands they worked with quite a bit was Molly Hatchet ("Flirtin' With Disaster"). Molly Hatchet referred Deep Purple to GRP and in less than a week the studio was recording the first of four projects with them. As you see by the client list GRP was non-stop with many well known artists. This led to a needed expansion to provide a dedicated studio for video and one for audio.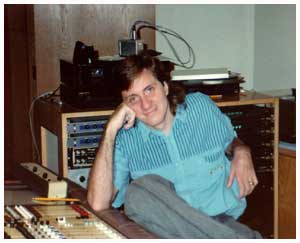 1988
Introducing GRP Studios
August 8, 1988 Greg's new studio in Altamonte Springs opened. It was almost three times as big as Morning Sun and was designed both physically and acoustically by Greg. The name was changed and incorporated as Greg Rike Productions, Inc . . soon to be called GRP. The day it opened it was booked 12 hours a day by Full Sail until they moved to their present location in their own studios.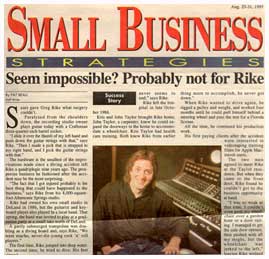 1987
Diving Accident
In the summer of 1987 Greg's band played at a high school graduation party. During a break everyone was jumping and diving off a trampoline placed in the side of a small lake. Greg slipped, hit his head on the bottom and was instantly paralyzed from the neck down. After being in the hospital for over three months he got right back at it . . . only now in a wheelchair. Greg moved from DeLand to Altamonte Springs, moving in with his friends John and Chris Taylor who helped Greg regain strength and find new direction. Greg decided to move the studio from DeLand to Altamonte Springs and change the name to Greg Rike Productions so his clients could find him.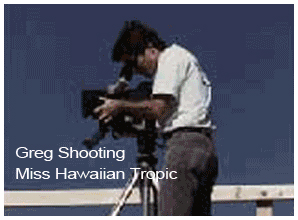 1987
MTV Spring Break
In Daytona's push to be a happening city they embraced the new MTV programming built around spring break. Unlike the peaceful auto race fans and the bikers, some of the college kids tore up the place, jumped to their death from balconies, overdosed and ran blindly in front of cars. In a couple years Daytona sent them packing to Panama City. The good news is Greg and Morning Sun were involved with the MTV related activities and worked with many entertainers like Jerry Seinfeld, Larry "Bud" Melman, Bruce Hornsby and mixing live sound for artists like "The Beastie Boys". Greg was also contracted to do the video for the Miss Hawaiian Tropic Semi-Finals which led to him doing an award winning corporate video for HT.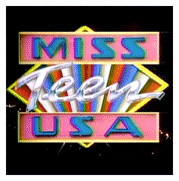 1986
Miss Teen USA CBS
Being in Deland, Morning Sun was a short jump from both Orlando and Daytona Beach. Daytona was completing their brand new "Ocean Center" convention center and actively seeking clients. CBS worked a deal to "live" national broadcast the 1986 Miss Teen USA pageant from there. Morning Sun was contracted to do all the audio pre-production working with The Commodores ("Night Shift", "Brick House") and teen idols Frankie Avalon ("Venus"), Fabian (American Bandstand) and Bobby Rydell ("Volare"). After the recordings and mixes were completed they were couriered to Daytona to use in the "not so live" show.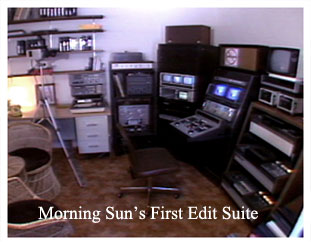 1983
Morning Sun Video Production
Since Greg began his association with WMFE all the video projects that he obtained were routed through the station with him as director/producer. Finally the demands on Greg's time required him to install a small edit suite at Morning Sun so he could get in and out quickly. He would hire freelance camera operators and crew and the next step was to purchase camera gear. One day he got a visit from recent Full Sail graduate (Greg's former lab student) Wally Walton wanting to get his start in an audio recording studio. It was perfect timing and now Morning Sun Studio was officially an audio and video production facility. Wally and Greg would work together for the next 30 years.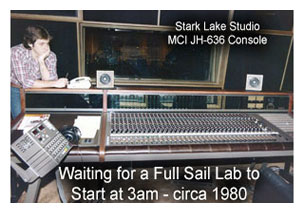 1982
Full Sail
By this time Morning Sun was a 16 track recording facility. At that time there were very few studios due to the high cost (about $1000 per track at the time . . . that's just the recorder!). The interest in becoming an audio engineer was growing but there was no place to learn how. John Phelps moved his recording workshop to Orlando and soon Greg was tapped to be a lab instructor. Soon after that, Full Sail brought their mobile to Morning Sun to use as a classroom. One of Greg's students was a young guy named Wally Walton who became Greg's engineer for the next 30 years.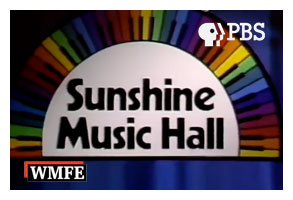 1981
Broadcast Television
WMFE Channel 24

By this time no longer a building contractor, Greg was committed to making a living from his passion. He got a call from WMFE Orlando PBS affiliate to be freelance audio engineer for a WMFE produced series called "Sunshine Music Hall". Before the series was barely started he was offered the job of audio coordinator for the whole station. Knowing Greg had his own business they agreed to let him come and go as needed to be able to do both. He ended up writing and recording theme music for a number of WMFE programs including a national special that earned him an Emmy nomination. As a result of working at a TV station, all of a sudden Greg began getting requests to do video production . . . he never said "no"!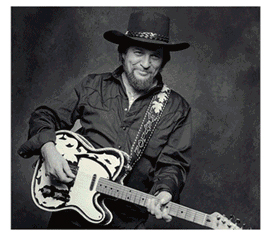 1979
Warner Brothers
Lucky Break

Taking the sitcom audiences by storm in 1979 was "The Dukes Of Hazzard". Waylon Jennings was the narrator they called "The Balladeer" who also wrote and sang the theme song "Good Ole Boys" . . . One of the biggest country stars at the time he was touring the country constantly. One day the phone rang and when Greg answered (thinking it was one of his friends fooling around) it was Warner Brothers from LA. They said Waylon was playing at Stetson University and they wanted him to record narrations for the Dukes of Hazzard in the studio after the concert. It happened at about 2am (another story) and the next day the recording event hit the news. The word about the studio was out not only to the public but to the country. seems the studio was not considered hobby status any longer and had to officially become a business. Greg later found out that Dal Ritchie from WETO radio station/chamber of commerce was the one that referred Warner Brothers. Twenty years later Greg shot a music video featuring Sonny Shroyer (Enos).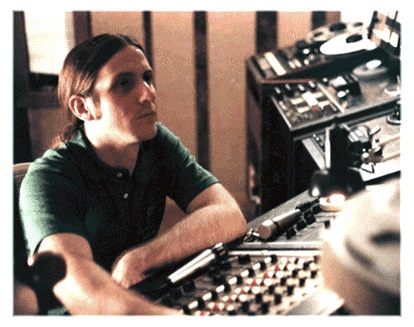 1976
Morning Sun Studio
From Remodeling to Recording

By 1976 with the gas shortages affecting the construction business, Greg decided to expand his audio "hobby" to supplement what little remodeling income there was coming in. He divided his warehouse cabinet shop in two and put a studio in the back. By this time instead of just being "that guy that does recording" he began calling it "Morning Sun Recording". The name came from a tiny town of the same name outside Oxford, Ohio where Greg went to college.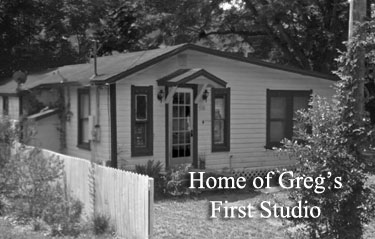 1974
Home Studio
From Contractor to Composer

While being a remodeling contractor, Greg took the addition he was adding on to his house and turned it into a soundproof recording studio. Equipped with a 4-track tape recorder and a rag-tag collection of mics and mixers he proceeded to sell radio jingles to local businesses which he wrote and performed. The first jingle was "Four Seasons Condominium" which played on the local DeLand radio station a lot. The station manager Dal Ritchie was so impressed that he contracted Greg to do a total ID package for his station WETO. Dal went on to become executive director of the DeLand chamber of commerce and soon would help change the course of Greg's future.